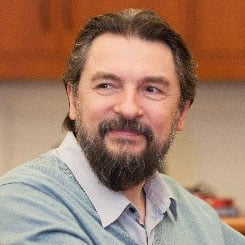 Dr. Alexander Sidorkin
Dean at California State University
USA
Topic: " Human Capital and Innovations in Education "
Dr. Alexander "Sasha" Sidorkin grew up in Western Siberia and went to a teachers' college to become a teacher of history. He attended graduate school at the Russian Academy of Education in Moscow, the University of Notre Dame, and University of Washington. Sasha worked at several universities both in Russia and the US. His scholarly interests include philosophy and economics of education and teacher preparation. He currently serves as Dean of the Sacramento State's College of Education.
Associate. Prof. Montree Yamkasikorn
Teacher Professional Development Institute (TPDI)
Ministry of Education
Thailand
Associate. Prof. Montree Yamkasikorn holds a Bachelor of Education degree with an honour in Mathematics Major (1977) and a Master of Education degree in educational technology (1980) and a EdD in Research and Curriculum Development (2003) from Srinakharin Wirot University.
Associate. Prof. Montree Yamkasikorn has served in several positions in the area of education for 36 years. (1980-2016) at different universities across Thailand. He began his career in education at Taksin Univerity. Later he worked as a Vice-President for Student Affairs for 4 years (1993-1997) and as a Dean of Faculty of Education for 8 years (2006-2014) at Burapha University. He also recently worked as a Vice-President for Academic Affairs at Nakhon Phanom University.
Meanwhile, he has also worked to advocate for teacher development as a member of Governing Board of Teacher Council of Thailand(Khurusapha) since 2013.
He then served as a President of the Thai Education Dean's Council (2013-2014) and also as a member of national selection committee for Government Scholarship provided to new teachers which is under the Office of Higher Education Commission(OHEC), the Ministry of Education.
Associate. Prof. Montree Yamkasikorn has published and co-edited more than hundred books, journals and articles altogether in the field of education.
At the present, Associate Prof. Montree Yamkasikorn is working at Teacher Professional Development Institute (TPDI) or Kurupatana, Ministry of Education, Thailand.

Dr. Martin Valcke
Head of the Department of Educational Studies
Ghent University
Belgium
Session Name :  Innovative Educational Practices
 Title: " ICT and jumping forward in Educational Quality: Examples from Higher Education "
Martin Valcke is currently full Professor 'Instructional Sciences' at the Ghent University, Belgium and Head of the Department of Educational Studies. Building on his PhD-work in the field of educational information sciences, his actual field of research focuses now on the innovation of Higher Education and the integrated use of Information and Communication Technologies (ICT). He is actually coordinator of about 20 national and international projects.
He has been and is being involved in a large number of national and international research and consultancy projects in countries of Africa (Uganda, Mozambique, South Africa, Zimbabwe), Middle America (Ecuador, Peru), and Asia (Cambodia, China, Vietnam). Next, he is regularly involved in activities and projects of the World Bank, the European Commission (Flexible Universities, Multi-Media programme, TEMPUS, Socrates, IST, FP7), and other international organizations. He has published a wide variety of international journals and international books. He is editor/reviewer for the Australian journal Distance Education, Computers in Human Behavior, the Online Medical Journal, and involved in a number of other journals (Computers & Education, Learning & Instruction, Review of educational Research, Contemporary Educational Psychology, Teaching and Teacher Education,
He was a visiting professor at the Beijing Normal University, Faculty of Education. Since June 2005, he is a Distinguished Fellow of the University of Western Australia (Perth).

Dr. Sheikh Tariq Mehmood
Deputy Director, Directorate of Distance Education
International Islamic University
Pakistan
Session:  Learning Science 
Dr. Sheikh Tariq has more than 10 years teaching experience of teaching graduate and post graduate level at International Islamic University and 16 years teaching experience of science subjects at secondary and Higher secondary level. He obtained his PhD in Education in International Islamic University and his B.Sc at Punjab University. Dr. Tariq was a visiting at Foundation University, Fatima Jinnah University, Preston University and Kohat University. His areas of specializations are Educational Planning and Management, Professionalism in Teaching, Emerging paradigms of Education, Micro Teaching, and Educational Research.

Dr. Brian D. Beitzel
Professor of Educational Psychology
State University of New York College at Oneonta (SUNY Oneonta)
United States
Session: Assessment Reliability and Validity
Topic: " Are You Working Hard? Comparing Two Measures of Mental Effort During a Learning Task."
Dr. Beitzel earned his doctorate at the University of Wisconsin-Madison and joined SUNY Oneonta as an assistant professor in 2004. He is currently a full professor in the Department of Educational Psychology, Counseling and Special Education and also holds an appointment as Director of Education Assessment and Accreditation. He received the Paul R. Pintrich Outstanding Dissertation Award (from the American Psychological Association's Division 15) and the SUNY Chancellor's Award for Excellence in Teaching.
Dr. Beitzel's research, funded in part by the Spencer Foundation, focuses on the risks and benefits of incorporating diagrams into mathematics instruction for undergraduate students. He serves as a Consulting Editor for the journal Educational Psychology and is on the Editorial Review Board for Excelsior: Leadership in Teaching and Learning.

Prof. Terera M. Mcdevitt
University of Northern Colorado
United States
Session : Curriculum that Works
Topic : " Education: Sharing Knowledge, Building Dreams " 
Prof. Terera M. Mcdevitt is Professor Emerita in Psychological Sciences at the University of Northern Colorado. She received her Ph.D. and M.A. in Child Development from Stanford University's Psychological Studies in Education program, an Ed.S. in Educational Evaluation from Stanford University, and a B.A. in Psychology from the University of California, Santa Cruz. As an undergraduate exchange student, she spent a year studying at Trinity College, Dublin, Ireland. Her research focuses on child development, families, and teacher education and is published in Child Development, Learning and Individual Differences, Child Study Journal, Merrill-Palmer Quarterly, Youth and Society, and Science Education, among others.
Her book, Child development and education, with co-author Jeanne Ormrod and published by Pearson, is now in its sixth edition and in preparation for its seventh. She has served the University of Northern Colorado in a variety of capacities— in teaching courses in child psychology, human development, educational psychology, program evaluation, and research methods; advisement of graduate students; university governance; and research and grant writing. In university leadership, she has served as Associate Provost for Academic Affairs, Assistant to the Provost for Strategic Initiatives, Co-Chair of the Institutional Review Board, Assistant to the Provost for Research and Graduate Education, and in other capacities.
In addition, she has gained extensive practical experience with children, including by raising two children with her husband and working as an early childhood teacher of toddlers and preschool children, early childhood special education teacher, and volunteer in school and community settings. She has been honored for faculty citizenship by the American Association for Higher Education, has received funding from the National Science Foundation, was recipient of Research Award by the International Listening Association, and has received numerous other awards for excellence in teaching, research, grant writing, and graduate student advisement.