AVENUES FOR PUBLICATION AND DISSEMINATION OF PRESENTED WORK
Book of Abstracts
---
All accepted abstracts for the 7th International Conference on Education 2021 – (ICEDU 2021) will be published in the conference abstract book with an associated ISBN 978-955-3605-86-3.
Conference Proceedings
---
All full papers sent for conference proceedings will be subjected to double blind reviewing process and will be published electronically with an ISSN 2513-2687 in the proceedings with a DOI Number (DOI prefix: 10.17501).
Accepted papers published in conference proceedings will be submitted to Google Scholar, Scopus and Thomson Reuters for possible indexing.
Peer Reviewed Journal Publication
International Journal of Web Based Communities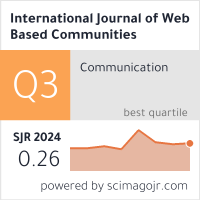 Online ISSN 1741-8216
Editor in Chief Dr. Piet Kommers
Publisher Inderscience Publishers
Journal Link 
Indexed in SCOPUS, Compendex [formerly Ei] (Elsevier), Academic OneFile (Gale), ACM Digital Library, cnpLINKer (CNPIEC) and many more
Scope Impact on learning, working, gaming, marketing, service industry
International Journal of Teaching and Learning
Online ISSN 2682-7042
Editor in Chief Prof. Brian Britzel, Director of Education Assessment and Accreditation, Professor of Educational Psychology, School of Education and Human Ecology, NY, USA.
Publisher TIIKM
Indexed in Crossref and Mendeley
Scope Empirical research conducted in formal and informal educational contexts, including controlled and natural settings, from all subfields of education. The journal does not publish review articles or book review
Children's Literature in Education
** Literature-focused journal, not Pedagogy.
Online ISSN 1573-1693
Co – Editors Rhonda Brock-ervSais, Catherine Butler, Victoria de Rijke
Publisher Springer
Abstracted/Indexed in SCOPUS, Arts & Humanities Citation Index, EBSCO Education Source, EBSCO Education Research Complete, EBSCO Education and many more.
Research in Higher Education
Online ISSN 1573-188X
Co – Editors Rhonda Brock-ervSais, Catherine Butler, Victoria de Rijke
Publisher Springer
Journal Link >>
Abstracted/Indexed in SCOPUS, Social Science Citation Index, EBSCO Education Research Complete, Journal Citation Reports/Social Sciences Edition, ProQuest Education Database and many more.
Teaching and Learning in Medicine
An international forum for medical educators on teaching and learning in the health professions and health education

Online ISSN 1532-8015
Editor-in-Chief Anna T. Cianciolo, PhD
Publisher Taylor & Francis Online
Journal Link >>
Abstracted/Indexed in SCOPUS, Web of Science, Science Citation Index Expanded, PubMed, Education Research Index, Educational Research Abstracts Online and many more.
Abstract & Full Paper Guidelines
PUBLISHelp
-A breakthrough Free TIIKM project to make your research publication possible-
---
Preliminary Reviews for Your Full Paper with the world-class publication "Steering Committee" prior to the conference
One of the major issues faced by novice researchers/authors in the present setting are the lack of perspectives to improve writing for academic publications. As a "PUBLISHelp" is introduced by TIIKM to help authors develop their full papers prior to the conference. Once the request is been made, a steering committee member will be assigned to provide the author with developmental comments for the improvement of the full paper. Our main goal is to assist our conference participants to keep one step ahead to improve their valuable research papers.
To whom:
This project is designed to help researchers/authors who aspire to develop their full papers up to the standard of high quality academic journals
Benefits to Authors:
Obtain experts' inputs to improve your paper

We assist you to obtain constructive inputs and different perspectives from qualified scholars. This will help strengthen the quality of your paper. Reviewed and revised paper with a world-class scientific committee will make your paper more likely to be accepted by high standard journals.
Ability to gain tips to strengthen your presentation

Feedback received via this committee will help you polish the final presentation at the conference as well.
Help develop academic writing skills

The knowledge that you will be gathering from this initiative will benefit you in your future academic writing for academic publications.
To apply for this valuable opportunity:
You have to be a paid participant for the conference
Have your full paper sent to publication@tiikmedu.com 6 weeks prior to the conference date with the subject "Application for PUBLISHelp Service – Conference Name"
Please mention your abstract ID and Registration ID in the email body
**Limited number of opportunities based on a First Come First Serve basis
If you are interested in joining the Steering Committee:
Please convey your interests to Ms. Sachithra Irugalbandara at sachithra@tiikm.com with your CV. (Please indicate "Application for Steering Committee" in the subject line)