AVENUES FOR PUBLICATION AND DISSEMINATION OF PRESENTED WORK
Book of Abstracts
---
All accepted abstracts for the 7th International Conference on Education 2021 – (ICEDU 2021) will be published in the conference abstract book with an associated ISBN.
Conference Proceedings
---
All full papers sent for conference proceedings will be subjected to double blind reviewing process and will be published electronically with an ISSN 2513-2687 in the proceedings with a DOI Number (DOI prefix: 10.17501).
Accepted papers published in conference proceedings will be submitted to Google Scholar, Scopus and Thomson Reuters for possible indexing.
Peer Reviewed Journal Publication
International Journal of Web Based Communities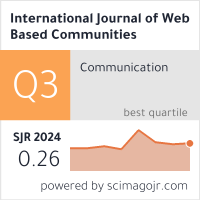 Online ISSN 1741-8216
Editor in Chief Dr. Piet Kommers
Publisher Inderscience Publishers
Journal Link 
Indexed in SCOPUS, Compendex [formerly Ei] (Elsevier), Academic OneFile (Gale), ACM Digital Library, cnpLINKer (CNPIEC) and many more
Scope Impact on learning, working, gaming, marketing, service industry
International Journal of Teaching and Learning
Online ISSN 2682-7042
Editor in Chief Prof. Brian Britzel, Director of Education Assessment and Accreditation, Professor of Educational Psychology, School of Education and Human Ecology, NY, USA.
Publisher TIIKM
Indexed in Crossref and Mendeley
Scope Empirical research conducted in formal and informal educational contexts, including controlled and natural settings, from all subfields of education. The journal does not publish review articles or book review
Abstract & Full Paper Guidelines